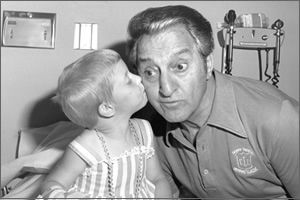 "My father said there are two kinds of people in the world: givers and takers.
The takers may eat better, but the givers sleep better."
Marlo Thomas
How to Introduce Someone to His or Her Very Best Clients
Uh, shouldn't that title read "How to be referred to your very best clients?" I mean, isn't that what we really want?
Of course it is, and the only sure-fire way to get introduced to your very best clients is to be genuinely focused on helping others meet theirs. I have done this hundreds of times, and the wonderful byproduct of introducing others to their very best clients is that they want to do the same for you.
And what if you could do that by asking just six questions?
Use my questionnaire, The Mini-Profile, to find out not only who your client or potential referrer wants to meet, but also what to say to introduce them. I use this all the time and so can you.
The Mini-Profile is specifically designed to gather the information that you need to introduce a client or potential referrer to his or her very best clients or referral sources. The six questions in the Mini-Profile are listed below. I have included my own Mini-Profile here as an example.
These six questions are a mini-version of The Big Three Profile from my book Referral Upgrade: A New Way to Find Your Very Best Clients. I developed it so that I would have a shorter path, when necessary, to introducing the right people to the right people, and it works great!
The six questions are:
• What do you do?
• Who or what is your very best client type or types?
• Who are your best referral source types?
• What is the benefit to the clients in meeting you?
• What is the benefit to the referral sources in meeting you?
• What can I say to make an introduction to you?
When you know this information, you will be able to introduce this person to the people that can help him or her get where he or she wants to go.
And when you do this, he or she will introduce you to your very best clients and referral sources too. Why? I think it's because others want you to continue to introduce them. But it's much deeper than that too. There is a natural sense of reciprocity that kicks in. There's also a feeling of gratitude when you connect others with the people who can help them achieve their dreams. Give it a try. You will be amazed at the results.
One last thing. If you have time, also ask them, "What is your vision of your best life going forward?" Another great way to get others to want to introduce you is to help their children move forward towards their dreams. When you help others or their children go in the direction of their dreams, they will love you forever.
Good luck!